Pond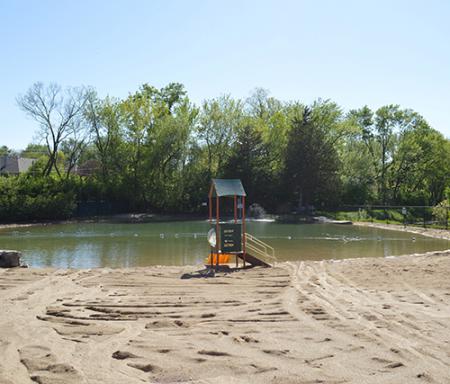 Nothing says summer like the sun, swimming and friends. Spring Lake Pond has been providing summer fun for years. Each year we kick off our pond opening with a neighborhood party!
Spring Lake Pond is a filtered, chlorinated, man-made pond. Each year, the pond is emptied and cleaned in preparation for the summer swimming season. The pond is open each day from 10 AM to 8 PM from Memorial Day until Labor day (weather permitting). The water is maintained to public pool standards and samples are sent to the city each week for confirmation it is safe for swimming. The only thing that differentiates the pond from a normal pool is the sand bottom and frogs that come over from the lake!
In addition to swimming, the pond has a swingset, slides for the kids (one 3 foot and one 8 foot slide into the water), sand diggers and a picnic area with outdoor shower and porta-potty. There is also a toy box with sand and water toys for the kids (many are donated by your neighbors) and chairs to enjoy the sun!
The picnic area can be reserved for private parties. A pond reservation gives you priority on the tables and grill in the picnic area. The swimming area remains open to the neighborhood members.
Click Here to Fill Out a Form To Reserve the Pond Today