Spring Lake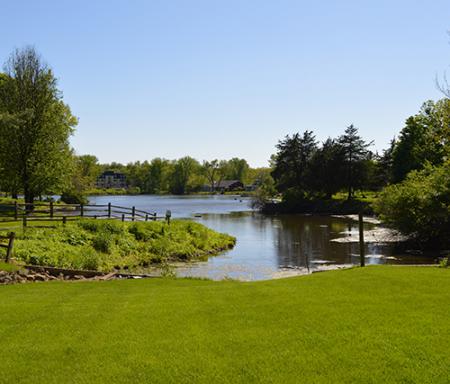 Spring Lake is a 10 acre, stormwater fed, man-made lake. The lake is stocked with fish and throughout the year you will find people fishing from the shore or on a boat. Members can fish from any section of the shore owned by the neighborhood. The dam along Spring Brook Rd is owned and maintained by the residents with homes along the lake. The only public dock is the boat launch off of Montlake Drive.
Due to stormwater infiltration of our lake, there is quite a bit of maintenance required to keep the lake from being covered 100% in algae. The lake has 2 large aerators that keep the lake oxygenated year round. These aerators are what cause the circles of bubbles in the middle of the lake – each air pump feeds multiple air diffusers spaced throughout the lake. There are also two fountains, one near Weymouth Park and the other near the pond. These are more for aesthetics as they don't circulate the water enough to feed oxygen like the aerators do.
We also have an annual contract with a company to treat the algae that does bloom. They come out twice a month and you may see them out in a boat spraying chemicals to control the growth. It is important to remember that the lake will always have algae and there is no preventative treatment like there is for weeds. The algae growth is fueled by all of the things washed into our lake – organic debris (grass clippings), sediment (dirt) and chemicals (fertilizer).